Welcome to the Ultimate Career24 Review for 2020.
We all know that Career24 is one of the best job portal sites in South Africa and many candidates rely on it to find jobs.
You can find almost any job in career24. Whether you are an engineer, marketer, lawyer or accountant your job is there.
You just need to apply and wait for the employer to contact you if you are the right candidate.

But everyone has his own experience with career24. If you are asking is career24 a scam or legit job portal site.
My answer is Career24 is legit job portal site.
If you have a different view or answer please leave your comment it will help someone to make an informed decision.
But, that is not the topic of the day. I am very concern about finding remote jobs on career24 I am a big fan of work from home.
For those who do not know what is a remote job. It simply a job that can be done away from tradition office.
Some people called it work from home.
By the way, I have built a stream of income working from home and I have included a free guide in this Career24 review.
You can download and understand the entire process. Stay tuned!!!
 I spend 24+ hours reviewing Career24.com to find out if they have remote jobs. I like working from home with my laptop and internet connection. 
 The benefits of working from home are plenty
Flexibility,
More productivity
and an easier approach to work-life balance.
Remote jobs also help some people who have an 8 to 5 job to work on another job as part-time and make some extra income. 
I do believe some companies are too busy they might need some extra hand from someone out of the company to do a quick task and pay them for their time. 
Do you need those opportunities after your work hours to increase your earning? or work full time at home and also manage the house duty?
Let see what I have found on Career24…
[aweber listid="5600528″ formid="1483676841″ formtype="webform"]
Is Career24 Good For Finding A Remote Job?
As I said before I have spent more than 24 + hours reviewing career24 site looking for remote jobs
below is what I have found.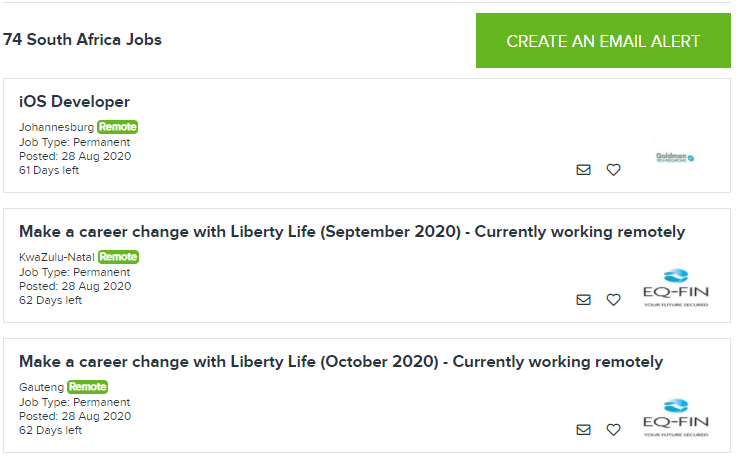 If you like working from home you can take advantage of it. But you will need to spend some time on their website to find what you need.
Unfortunately, it is hard to find remote jobs on career24 to work as a part-time job or after work hours.
Most of the job I found in career24 need someone to work full time at home as an employee. It can be an advantage for a stay at home mom or someone looking for a full-time remote job.
But if you want a part-time remote job or something to work after your work hours career24 is not for you.
Therefore, if you need some extra income and work anytime you can also
check out My Best 7 Freelancer Websites In South Africa.
You can find almost any job as a freelancer on those websites depending on your skills and make some money from home.
Freelancer jobs is also a remote job people a called it in a different way like:
You can also download this free ebook below to understand how people make money online and if you really what to make money without any boss.

If you have found a remote job on career24 please leave your comment whether good or bad it does not matter as long as it helps our reader to make an informed decision.
Maybe you are like Franck I understand what you are saying and I like the idea where can I find the best remote job.
Keep reading this Career24 Review I have select the best website for you.
Best Remote Job Boards
They are many remote job site on the internet. You can google them and sign up and start working from home.
To save your time I have selected the best 5 remote job boards you can check it out.
If you do not want to waste time you can apply
directly
to those companies.
You will find a remote job on websites like:
If you do not find what you need on those websites they are always alternative. Do you know you can create your own remote job and start making money from home without a damn boss?
Download this ebook below and understand the entire process.

Final Verdict
Career24 remains the best job portal for finding jobs in South Africa. Most of you reading this Career24 review you are wondering if it is possible to work from home.
Yes, it is possible you can even negotiate with your current employer to start working for home.
For tips on negotiating a remote work agreement with your current employer, you can read this e-book The 4-Hour Work Week.
After reviewing career24 for 24+ hours I can finally say career24.com is not good for finding a remote job.
For this reason, I won't rate them the same as Pnet.com but this just my review. If you have a different review please leave your comment and your experience.
That all I have to share with you guys please consider leaving a comment if you have experience with remote job and how to find one.
Therefore, if you enjoy this review please share it with your find and help other people out.