Welcome to my Slicethepie Review. It is very funny and unbelievable how people earn money with the Internet nowadays.
I have reviewed many sites that reward people by completing surveys, watching videos and other mini-tasks online.
In my experience, sites that offer a fairly easy way of earning usually do not pay a lot of money.
I stumbled upon slicethepie.com which claims to pay people by listing and reviewing music and also by fashion items.
Can you rely on this site to pay your bills or even quit your daily job?
Let's find out in this Slicethepie Review
Since my job is to educate my audience about how to make money online I could stop myself from reviewing slicethepie.com
In this Slicethepie Review, I will cover:
What is the SliceThePie all about and how it works
How Much You Can Earn
If Slice The Pie is legit
The Pros and Cons of the Site
The alternative Slice The Pie
Without further ado let's dive right into this review
What is Slice The Pie and How Does it Work
Slicethepie is the largest paid review site on the internet that allows artists to upload their music for fans to listen to and review.
Although the site is known for leaving reviews on music tracks and earning.
You can also leave reviews and rate fashion items, commercial ads and complete surveys.
Therefore, you will earn cash for every review you leave and get your money through PayPal.
But beware that you need to sign up with Slicethepie with the email that is associated with your Paypal account otherwise, you won't get paid.
Slicethepie has been operating since 2007 which proves that they are a legit company.
All the scam companies have a short lifespan and others rebrand their name to run away from negative reviews.
The Slicethepie average rating on Trustpilot is 3.7 out of 5 at the time of writing this review as you can the screenshot below.

This means it is not a bad site and many members have shared their proof of payment on different social media.
Let's me now share with you how Slicethepie works and how people earn money on this site:
Music Reviews
As a member, you need to listen to music for 90 seconds, write out your thoughts about the music in up to 60 words, and rate it from 0 up to 10.
It is very important to be objective with your reviews.
The purpose of this is to collect data that will help artists improve their music through your honest review.
Fashion Reviews
You will need to review various clothing items and you will be asked to review various aspects of each product.
Then you need to rate it from 0 to 10 and how much can you spend on the products.
Mobile Reviews
It works similarly with the fashion reviews. Instead of reviewing clothing items, you will be writing reviews about mobile accessories.
Commercial Reviews
You will be asked to rate commercial and also provide your thoughts and takeaways.
Remember to be objective this will help the marketing company to improve the ads.
The more you give high-quality review your rating as a member will increase and you will qualify for better earnings.
Surveys
You can also earn money on this site by completing online surveys.
Slicethepie will redirect you to a third-party site to complete a standard survey, after which you will receive cash in your account balance.
Surveys on this platform pay close to nothing on the average of $0.02.
Therefore, if you want to earn a little bit more by completing online surveys you can sign up with surveytime.io or timebucks.com.
Refer a Friend
Almost every online reward site has a referral program.
This can be a good way to earn more money by referring your friend to be a member, especially if you have many followers on social media.
Slicethepie pays you 20% of all your referral earnings for 60 days and 10% after that.
If you have active referrals who are willing to earn cents for writing reviews on this platform you can earn good money in return.
Do you know Amazon also has a referral program where you can earn up to 10% commission for referring people to buy their products?

You can earn up to $250 or more per referral depending on the products your referrals purchase.
Therefore, if you are interested in learning how it works you can check out the Amazon Affiliate Marketing Guide.
How Much Can You Earn on This Site?
First of all, it depends on how consistent you are in completing those tasks (reviews) and how many quality reviews you leave on each task.
With time your star rating will increase and qualify for a high rate.
As a new member, your earnings will be very low since every member starts with a star rating of 1 out of 5.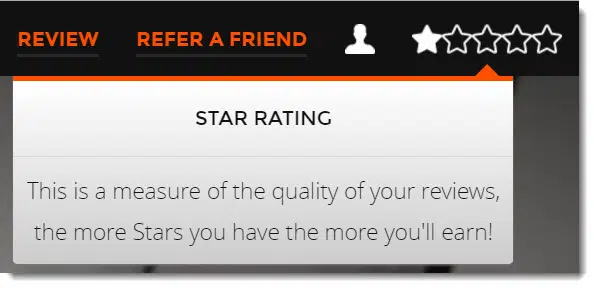 To increase your rate as a member you need to leave high-quality reviews and each task you have been given.
The average earning per task (review) is $0.02 to $0.2 you can tell that Slicethepie is a slow-earning platform.
It is impossible to make decent money on slicethepie.com.
Let's say you manage to write 30 reviews per day and the average pay rate is $0.2.
You can earn with Slicethepie $6 per day which is very low than the minim wage since you have to write more than 60 words per review.
However it is not easy to complete 30 reviews per day on this platform.
There will always be a few reviews to complete in your member area.
One member reported that he completed 25 reviews and the earning was $0.5 which means he was getting paid $0.02 per review
What you need to expect is you can earn less than $0.5 per day.
You can not rely on or replace your primary income or quit your job with Slicethepie.
Therefore if you want to earn a bit more on the Internet or even quit your job.
You can check out My Top Recommendation Platform to learn how to earn affiliate commissions with your laptop and internet connection.
Is Sliethepie a Scam or Legit?
Although some people have reported on Trustpilot that Slicethepie is a scam and blocked their accounts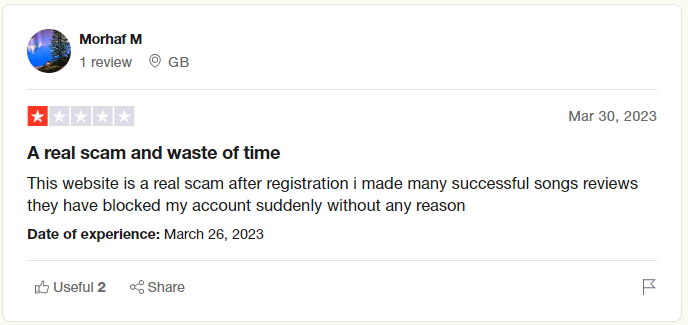 Slicethepie can not be a scam platform.
Blockage of accounts happens only when people try to cheat the system or do not follow the terms and conditions.
Below is another review of people who have good experience with this site.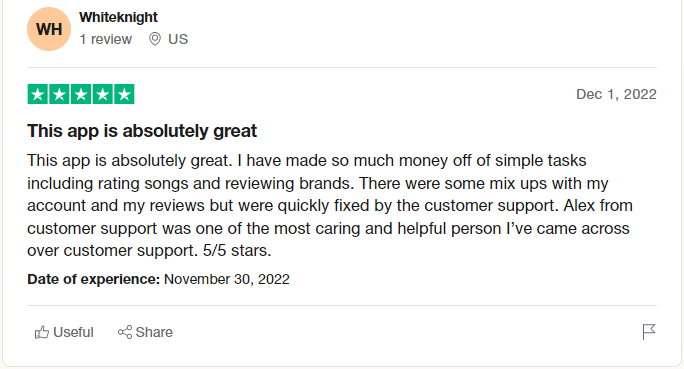 Slicethepie is definitively a legit website that pays people to write reviews on music tracks, fashion items and more.
Although the site does not pay must it will be too harsh to call a legit site a scam.
Slicethepie Pros and Cons
Pros
Earning Opportunity
Some people can say Slicethepie is a waste of time.
But the same people can spend time on TikTok watching videos and commenting without earning any pennies.
Slicethepie can be a good opportunity to earn a little bit of money listing music and reviewing it.
If you are interested in this method of earning you can also sign up with surveytime.io to increase your online earning.
PayPal
If you have been earning money online you will understand how it is very convenient to get paid via Paypal.
For me, it is very a good way and hustles free as a method of Payment.
Cons
Slow Earning Platform
Although I praise their earning opportunity.
On the other hand, I found Slicethepie as a slow-earning platform that you can not rely on or replace your primary income with what you earn on the site.
Therefore, if you invest the same time that you spend on slicethepie.com on the site like Wealthy Affiliate and learn how to make passive income.
Then you can quit your job within one or two years depending on the on the effort you put in to build your online business
Payment Threshold
The average earning on this site per review is around $0.02 up to $0.2.
Tell me how many reviews you need to write per day to reach the minimum payment threshold of $10.
To be honest some members are leaving this site without cashing out. This for me is a major throwback.
The alternative to SliceThePie
There are many ways to earn money on the Internet nowadays.
I have reviewed many websites that claim to pay people online to complete tasks and other micro jobs
Therefore, if you would like to earn some extra cash online.
You can check out the Top 5 Online Surveys Site that I recommend to my reader.
 Alternatively, you can look at the table below to sign up.
To increase your earnings you need to sign up with all of them whenever you do not have a survey to complete on one site you can switch to another.
As said before sites that offer a fairly easy way of earning usually do not pay a lot of money and this is the same about those sites I listed above.
To make decent money online even quitting your job you need to build a niche website and start to review some products online.
For example, your niche is Home Gym Equipment.
You can sign up with Amazon Associate to become their affiliate and review all the products below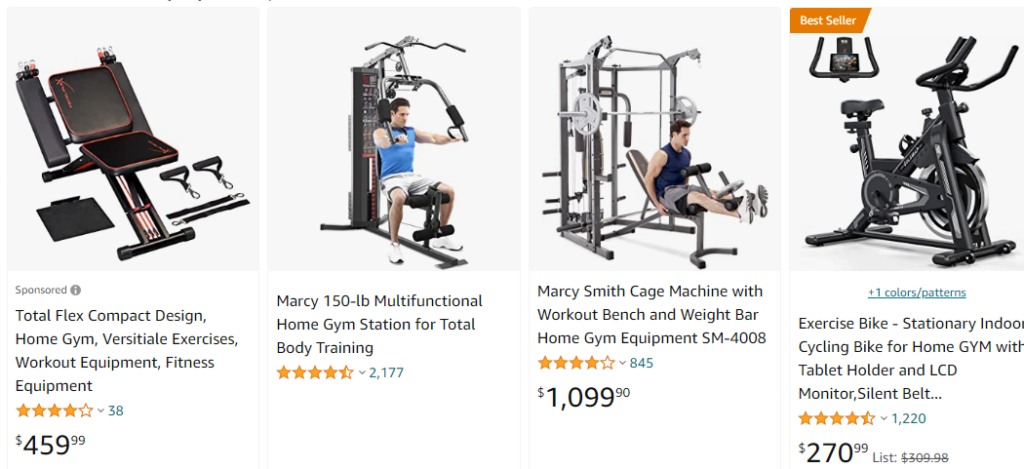 Believe it or not many people read reviews online before they buy anything online.
Some rely on reviews that they find on the internet to make their purchasing decison.
Therefore if you are affiliated to those products and whenever someone buys those products you earn a commission.
Amazon pays up to 10% commission and you can make a lot of money online with this method.
If you are reading this Slicethepie Review it means it works for me and it works for many people.
My friend earned $10,640,56 in August you can read his post for motivation.
But it is not a get-rich-quick scheme or overnight success.
It needs hard work upfront for you to start making sales and earning commissions.
Therefore, if you want some training or to check out how this method works.
You can check out My Top Recommendation Platform for the first 10 free lessons on how to make money online.
Final Verdict – Slicethepie Review
Slicethepie is indeed a legit site where you can earn money by listening to music, reviewing and rating fashion items from 0 up to 10.
You can also earn money by rating fashion items and competing surveys on the site.
Although you can earn money on this platform that does not mean you can quit your job with slicethepie.com the earning potential is very low and it can be a waste of time.
Therefore, if you want to earn money online by reviewing different products online and earning decent cash that can replace your primary income.
You can check out My Top Remmendation Plaform to step by step-by-step training.
Another alternative is to sign up for the 15-Day Online Business Builder Challenge to learn how to earn millions of dollars in commissions by recommending different products and services online.
Now I would like to turn things over to you: Did I miss anything that I did not cover in this review?
Do you think Slicethepie is a good gig for you?
Or maybe you have other tricks that I did not cover here that help you to make more money.
Either way, let me know and leave a comment below.