Welcome to my unbiased IFA Review. I have spent 17-hour search the IFA Network Marketing and how people are making money as IFA Member.
In this IFA Review you will know:
If you can make money as IFA member

If IFA Network Marketing is

effective in 2020 and behind

Is IFA a Pyramid Scheme

The

common complaints

about IFA

If the whole thing is

legit or a scam

The Alternative to network Marketing

How I Make Money Online.
In this time you can not only depend on a salary and the cost of living is high. Everyone is looking for an opportunity to make extra income or side hustler.
You have seen the IFA Presentation by Desmond Dube or IFA Member invite you to attend an IFA Presentation or you already attend the presentation now you know to if you can join IFA or not.
I have to congratulate you for doing your due diligence. In this hard economy, many peoples can do anything to make money out of you.
In this IFA Review, you will find the good, the bad and the ugly do not join IFA yet until you read this review until the very again.
You can also download my Free Making Money Guide this will help you if you want to recruit more people to join IFA or help you to build a stream of income.
What is IFA?
IFA Stands for Independent Field Advertising. IFA is a division of Clientele Life Insurance Company. 
Their website is ifa.co.za it is a Network Marketing company that sale insurance policy by their Member.
IFA provides a Business Opportunity to all South African who want to make extra income.
The company was found in 1998 and they have paid out over 1.5 billion to their active IFA Member. This can assure you that the company is legit.
How To Become an IFA?
To become an IFA member you will need to get an invitation code from IFA existing member.
Then you will need to attend the IFA Presentation and to be eligible an IFA member you will need to have:
A valid ID or Passport

You must be 18 years or older

A bank account in South Africa that you use for transactions

Pay R55 per Month for IFA Membership
Therefore, If you are a non-South African living in South Africa and you want to become IFA to earn an extra income.
You will need a valid work permit and registered as a South African taxpayer
How Does IFA Works?
IFA is a Network Marketing Company. As IFA Member to earn you will need to recruit people and build your downline team to make money.
All you need is to teach your team the importance of paying the premium insurance and IFA Membership fee.
The formula to succeed as IFA Member is IMF which stands for:
Invite: You will need to invite people who want to become an IFA member and attend the presentation.

Meet: You will need to meet up with your team and attend the presentation together. Knowing people who you are inviting is lucrative to build a strong team. It is all about networking

Follow Up: You will need to follow up on your team and make sure they understand the business. Your success depends on your team
Once you understand the IFA Business Model. You can decide to become an IFA then you will need to choose one of this Clientele assurance Policy Plan.
Clientèle Ultimate Dignity Plan for R225.00

Clientèle Funeral Dignity Plan for R220.00

Clientèle Wealth Plan for R300.00

Clientèle Ultimate Foundation Plan for R280.00

Clientèle Legal Plans for R220.00
Your job is to network with people and recruit them to join IFA that how people make money in this business.
Therefore, if you hate the fact that you will need to recruit people to make money. You can check out My Top Recommendation and build your internet marketing without recruiting anyone.
How Can I Make Money With IFA
You can earn money with IFA from Level 1 to 6. The earnings differ from levels and the assurance policy your team subscribes to.
Therefore, if your team recruit new IFA members at Level 1 they will place then on level 2.
If level 2 recruit other new IFA members the will place at a level 3 and so forth.
To start earning you will need to qualify as IFA Earner and pay your IFA business fee every month.
They are 2 ways to earn as IFA Member:
IFA Earner: To qualify as IFA Earner you will need to recruit 2 people. Once those 2 people subscribe to one of the Clientele Premium assurance. You will receive a commission of R200 and when you recruit 10 people you will receive R1,500

IFA Clubs: You can also earn monthly club bonuses by building your downline team.
Below is how you the IFA Bonuses works:
Club 15 (15 people you recruit) you will earn R300 per month

Club 30 = R675 per month

Club 60 = R90 per month

Club 100 = R1300 per month

Club 175 = R1600 per month

Club 250 = R1860 per month
You can check the full list by visiting behindmlm.com. By looking at this number and the earnings. You will understand that is not easy to earn a decent income with IFA.
It will need hard and a lot of effort to earn peanut while IFA earns a lot of money by watching you recruiting people.
I have reviewed another company called Duepoint. I can not recommend anyone to join a Network Marketing Company.
Let look at an alternative of IFA which is Affiliate Marketing
Let say you join Clickbank (Affiliate Network) is completely free to join. You become an affiliate and decide to promote product below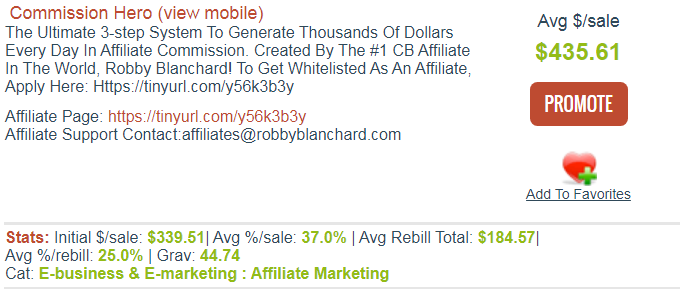 The product pays 37% in commission and you only 2 sales. You will earn $322.35 in commission.
Let do the math the product is sold at $435.61 times 37% = $161.18 times 2 sales = $322.35 in rent is around R5641.14.
Imagine if you make 15 sales per month. The same effort you put in IFA (Network Marking) you can use it some else and make decent money.
People are building 6 to 7 figure online business with Affiliate Marketing. I always recommend my audience to start Affiliate Marketing business.
Yes, it needs a lot of work but if you do it well you can build a successful online business in less than a year and quit your job.
You can check out My Work At Home Jobs and see how it works. Network Marketing is a good marketing strategy for companies to save money on advertisement.
But is not a good business model for distributors and I doubt even 30% of IFA Members are making R8500 per month.
How Do I Get Paid With IFA?
Once you qualify as IFA Earner you will get pay every month through direct deposit you will need to understand the importance of IMF to maximize your earnings.
Is IFA Worth it?
Those opportunities demand a lot of time and energy to make a decent income. People who are making money with Networking marketing are those on the up line.
Yes, IFA is worth it. But, you will need to be a go-getter and build a strong team that has the same vision as you "making money".
But if you need my opinion. I will not recommend anyone to join Network Marketing the chance to succeed in this business is only 1%.
What do I like about IFA?
The fact that you can work by yourself without a damn boss. You can work part-time or full-time that what I like about IFA. Let see what I like again below:
Extra Income
What I have to say about IFA even though I do not like Network Marketing is they give an opportunity to everyone who wants to make extra income.
Investing in yourself and Family
Clientele Life is the biggest assurance company in south Africa. By joining IFA Business you will subscribe to a policy that will cover you and your family.
What I Do Not Like About IFA?
If you read through my IFA Review. You understand the business model and how you can make money. Let look what I do not like about IFA Business Opportunity
Look like a pyramid scheme
IFA does not have any retail product or service the only focus on recruiting people to join the scheme.
Below is the definition of the pyramid scheme.
" A business model that recruits members via a promise of payments or services for enrolling others into the scheme, rather than supplying investments or sale of products".
In Uk, Canada, Australia and the USA pyramid scheme is illegal.
IFA Complaints
There is not a perfect company that you need to put in mind. Every company has its pros and cons.
I have seen many IFA Complaints on hellopeter.com you can check it out.
But in this IFA Review, I will include a few of the Complaints. It is time for you to find out your deal breaker.
Call Center Agent need training
I have found a lot of complaints about the call centre agent whenever you have an issue and you need help.
It is hard to get help from the agent. When the agent does not have an answer to your enquire they always end up the call to escape your concern.
Too much work but little rewards
This is a symptom of all Network Marketing. You will need a lot of time and energy to build the down line to make money. To see decent money you will need to recruit a lot of people.
Is IFA a Scam?
Up to now, you understand how IFA Business works and how members are making money. You will need to recruit people to join IFA to make money.
I pretty sure your question IFA is a scam has been answered if you read the entire review.
Yes, IFA is a legit company and they have been in business for 22 years by the time of writing this IFA Review.
Therefore, if you think this Business Model is perfect for you and it is what you have been looking for.
You can join IFA. You will need to understand important of inviting people, attending the presentation and teaching them how to build the team.
Therefore, if you do not want anything about recruiting to make money you can try My Top Recommendation. The only thing you need is a laptop and internet connection to make money online.
Can You Get Rich with IFA?
Everyone wants to escape the rate race and quit the 8 to 5 jobs by looking for a way to replace the primary income.
Yes, you can replace your primary income with IFA. But you need to put in mind that you will need to recruit a lot of people to make a decent income and you need to be a go-getter.
If you can aggressively convince people to join IFA you won't make any money.
IFA is network Marketing. You will need to network and meet people, invite them to the presentation for you to make money.
However, there is also an alternative to IFA that does not need to recruit anyone to make money is called Affiliate and Internet Marketing.
Amazon, Clickbank, eBay, Paydotcom are looking for people to promote their product and pay you a commission.
If you want to be rich you can try this business model many including me earn money online.
Best Way To Make Money from Home?
They are many ways to make money from home. Some research company needs to improve its products and services.
They are looking for people like me and you to complete surveys online and rewards for the time.
They contact sites like ysense.com and paidviewpoint.com to find people who want to earn extra cash by complete surveys.
But, other people make money from home with Forex and Stock Market.
This is a risky business. But they are a lot of money to be made to cut out the risk you can start your training with Stock Market College.
Therefore, if you are someone like me who want to earn money from home as a blogger and live the laptop lifestyle. You can start your blog page and earn passive income.
As you can see throughout this post there are ads Google is paying me for placing those ads on my website.
Bloggers earn between 6 to 7 figure passive income online. But I am not yet there. I am still pushing and this business model helps me to quit Uber Eat Delivery and earn money from home.
If you are want to become a blogger and build a stream of income. You can start your training with Wealthy Affiliate and earn money at the comfort of your home.
My Conclusion About IFA 
The IFA Business helps many peoples to earn extra income since 1998. They have paid out their members more than 1.5 Billion.
Therefore, if you have read IFA Review until here you know the pros and Cons about IFA.
Regardless of what IFA payout I am still not a fan of Network Marketing because only 1% of people make decent money with this business money.
As IFA Member you will need to recruit people to join IFA and make sure they understand the business opportunity to make money as a team.
Also, the money will earn with IFA is too little. It will need you to recruit a lot of people on your down line for you to quit your job and be a full-time IFA Member.
However, If you are looking for a real deal that does not involve recruiting people to build a passive income.
You can start your Affiliate Marketing Training. All you need is a laptop and internet connection and build a successful business online.
Your IFA Review and Your Experience
Thank you for reading my IFA Review. It is time to hear from you please share your experience with IFA bad or good. Leave your comment it will help someone to make an informed decision.
However, if you know someone who you think might need to read this review. Please click on the social share button to share with friends and families