Welcome to Customer Perspectives Mystery Shopping Review. You are probably researching a way to earn some extra income online.
You stumble upon Customer Perspectives and you want to get more information before you sign up as a mystery shopper.
I have done deep research on this site and I have reviewed many mystery shopper sites in the past I know exactly how the works.
I will tell you if this opportunity is worth your time or not.
In this Customer Perspectives Mystery Shopping Review, I will cover
What is Customer Perspectives all about and how it works
Is the Mystery Shopper job worth it
If all thing is legit or not
The Pros and cons
The alternative to Customer Perspectives
Without further ado let's get started
What is Customer Perspectives and How it works?
Custom Perspectives is a company that offers mystery shopping services to it is customers and the company is operating since 1983.
You might ask what is mystery shopping?
According to Channelplay "Mystery Shopping is a process in which a person visits a retail store, restaurant, bank branch or any such location to measure the quality of customer experience".
Customer Perspectives assigns a mystery shopper with a specific assignment to do to collect data for it is clients to improve customer service and expectations.
As a mystery shopper from Customer perspectives, you are an independent contractor.
Your job is to perform secret shopping for a variety of service-oriented businesses.
You will get paid every time you successfully submit your mystery shopping reports and when it is approved.
As a mystery shopper, your job is to complete the high shopping report that was assigned to you and you might need to have some skills to complete those reports such as:
Reading Skills
Pay Attention to the detail
Strong Writing Skills
Ability to meet deadlines
Communication Skills
Therefore, if you have those skills and this gig is appealing to you then you need to visit the site and apply to become a mystery shopper by completing the registration form.
But you need to put in mind that those gigs are available only for people who are residents of the US and Canada.
How Much Can you Earn as Mystery Shopper from Customer Perspectives
Customer Perspectives pay a range of $15 to $25 per assignment which is a very low minimum wage since it can take you some hours to complete a single assignment.
In other cases, they can reimburse your money if you spend some money during the shopping.
It is very difficult to tell how much you can earn as a mystery Shopper with Customer Perspectives since they do not disclose how much their mystery shopper earns.
What you have to know is that if you stay in the big city you can get more assignments to complete in an average of 10 assignments to complete per month which is close to $150 to $250 per month on average.
But if you are staying in the smallest town you won't get many assignments for you to complete.
Even though they need mystery shoppers to be very consistent with the assignment even if they can perform one per month.
Is the Mystery Shopper Job Worth It
As a mystery shopper, you can get paid to shop and dine at local businesses even though the pay is not usually very high, it can be a fun way to earn some extra money.
The big question you might be asking is, Are those gigs worth your time?
It all depends on your location and how often you complete those assignments.
If you are staying in the big city you can have more assignments to complete which can add up if you do a lot of mystery shopping.
But if you are not active and you do those assignments once in a while you won't make enough money and it won't be worth it.
In general mystery shopping sounds like a pretty sweet gig only to earn some extra income. It is not something that you can rely on to pay your bills or replace your income.
Therefore if you are looking for more ways to earn some extra income you can also try Surveytime or Timebucks to earn online by completing surveys and other tasks.
But if you want to build a stream of income that can replace your primary income you can check out My Top Recommendation Platform to learn step-by-step how to build a niche website and earn affiliate commissions.
Many people are earning passive income online by following those training. But it needs time and effort to successfully make a consistence income online.
Is Customer Perspectives legit?
The Customer Perspective was around since 1983 and they are a member of the MSPA (Mystery Shopping Professional Association).
The MSPA strives to maintain a membership of legitimate, trustworthy businesses.
Being a member of MSPA shows that Customer Perspectives is a legit company that you can rely on as a mystery Shopper.
The only drawback that I found is that pays within 5 to 6 weeks which is a lot of waiting time.
However, the company allow you to do mystery shopping for other companies which can be good while you are waiting for payment.
You can also sign up with BestMark for mystery shopping gigs and they pay within 3 to 4 weeks.
Otherwise, you can try also surveytime to earn from home by completing surveys online.
Therefore, Customer Perspectives have a good testimonial from their mystery shopper and this proves again they are legit as you can see in the comment below: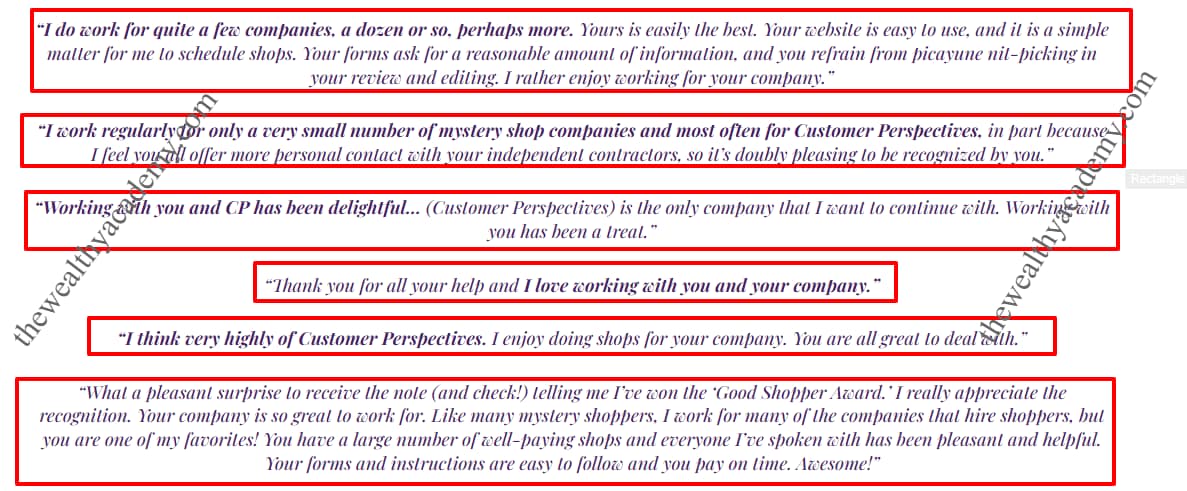 Customer Perspectives Pros and Cons
I am sure you understand what is Customer Perspectives are all about and what to expect as a mystery shopper.
It is also important to be aware of the cons before you sign up. Let's look at some of the pros and cons to help you decide if it is for you
Pros
With Customer Perspectives or any mystery shopper, you can work flexible hours. Anytime you are free you can just log in and check which job is available and when you can complete it.
Believe it or not, you can get paid just for shopping. In other cases, you are also being reimbursed for the money you spend during the shopping which can be $15 to $25.
Help businesses improve customer service
By completing those assignments you are helping businesses to improve customer service by completing the tasks that were assigned to you as a mystery shopper.
Cons
Unfortunately, for most of the gigs, you get you will need to travel to complete the assignment that is assigned to you.
This will involve spending money on petrol or taxi fare to get to the location.
This is not a laptop lifestyle job or work-from-home job.
Therefore, if you are looking to build a laptop lifestyle job you can check out Wealthy Affiliate training and learn how to earn affiliate commissions using your laptop and internet connection.
Mystery shopper does not pay much and the assignment to complete can scarce especially if you are staying in the smallest city.
You can not rely on these gigs to pay bills
If you are staying in the smallest time it will be very hard to get assignments to complete most of the time.
Mystery shoppers who are more likely to get assignments often are those who are staying in the big town and you need to grasp the assignment as soon as it is available.
They are also some competition since those gigs are in demand and Customer Perspectives has over 10,000 Mystery Shopper ready to complete the assignments.
The Alternative to Customer Perspectives
As a mystery shopper at Customer Perspectives, you can get many assignments to complete if you are staying in a big city.
However, this hustler can not replace your full-time job or become your primary income.
It is something that you can do now and then to earn some extra income in your free time or while you are shopping.
You can also check the 5 Best Survey Websites to earn money online by completing surveys to increase your earnings after shopping.
Or you can check the table below for my best survey websites
Although you can earn money online as a mystery shopper or by completing surveys online you can never rely on those websites to make a living.
The alternative way to earn passive income or build a stream of income online is through affiliate marketing.
You can just sign up with any affiliate program and get an affiliate link of products and recommend it to people all over the world and earn commissions for any successful sales.
The process of affiliate marketing is straightforward. But the hard part is to reach your audiences and make sales.
That is why I always advise my audience to get some training if they are serious about making money online.
You can check out My Top recommendation Platform for step-by-step training and you can get all the tools to kick-start your online business.
Believe me or not people are making 6 to 7 figures online recommending other people's products and services.
But it is not overnight success or a get-rich-quick scheme. This business model needs time and effort.
You can also sign up for 15-Day Online Business Builder Challenge to learn how to earn millions of dollars in commissions by recommending different products and services online.
Final Verdict of Customer Perspectives Mystery Shoppery Review
Although you are technically being paid to shop, the pay is usually not very high. You might only make a few dollars per assignment, which can add up if you do a lot of mystery shopping.
However, if you're only doing it once in a while, you might not make enough money and those gigs can not replace your primary income.
Therefore if you want to learn how to build an online business that can replace your primary income or something that can help you to work flexibly or build passive income streams.
You can check out My Top Recommendation platform for the step by step training and better yet you will get all the tools to kick-start your training.
Now I would like to turn things over to you: Did I miss anything that I did not cover in this review?
Do you think mystery shopping is a good gig for you?
Or maybe you have other tricks that I did not cover here to make more money with Customer Perspectives Mystery Shopper that help you to make more money.
Either way, let me know and leave a comment below.