As a new blogger or internet marketer who wants to rely 100% on organic traffic you might be wondering what is a strategy or best way to rank your brand-new website on search engines.
The simple answer and strategy most bloggers use are to target for Low-Hanging Fruit Keywords.
Before I go into more detail and define what is Low Hanging Fruit Keywords and how to find them.
 I want to explain something very important that will help you to understand how search engines work and how people find articles on Google, Bing and Yahoo.
Search engines are web-based tools that help people find information on the internet.
When you use a search engine, you type a word or phrase for example "Low Hanging Fruit Keyword" into a search box.

The search engine displays a list of websites that are related to your search.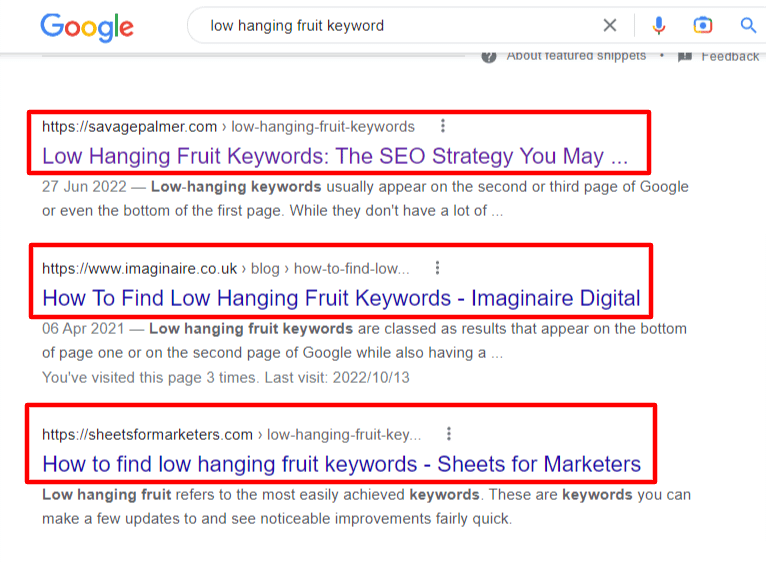 The word or phrase that you type into the search box to get all those result is called a "Keyword"
What is a Keyword?
A keyword is a word or phrase that describes the content on a webpage. When someone searches for that keyword, they should be able to find your webpage in the search results.
For example, let's say you have a blog post about the best hiking trails in the area. The title of your post might be something like "The 10 Best Hiking Trails near South Africa."
Your keywords, then, might be "hiking," "hiking trails," and "South Africa."
You can use keywords throughout your website to help search engines understand what your website is about.
Therefore, you need to do some Keyword Research to find the best keyword for your website with less competition.
Keyword research is the process of finding and using keywords that will help you optimize your website and content for search engines.
By doing keyword research, you can find the right keywords to target that will help you improve your ranking in search engines and get more traffic to your website.
They are many different keyword tools that you can use to do your Keyword research in my case I use Jaaxy to help me with keyword research, especially for a brand-new website.
This Keyword Search tool is designed to help user to get low-competitive keywords and it user friendly.
You can get try Jaaxy for free but you will be avail only 30 searches.
Therefore, you get Jaaxy for completely free if you are premium member of Wealthy Affiliate. You can also use h-supertools, ubersuggest and Ahrefs.
I am sure now you understand how search engines work and how keyword research is more important.
Let me define what is Low Hanging Fruit Keyword and why is very important for a brand-new website.
What is low hanging fruit keyword?
Low-hanging fruit keyword is a keyword that has a low completion. Similarly to the fruit trees, it is the fruit that is typically smaller and easier to grasp (it gets less traffic).
There are many more of them and they have far less competition because most people naturally compete for the "larger" fruit at the top of the tree (the high-traffic keywords).
As a brand-new website, you are better off targeting low-competition keywords for better ranking and more traffic.
Google does not index every single page or every single website under every single search term.
Therefore you do not want to waste your time by writing articles that might not be indexed in Google and other search engines.
You can stick to Low Hanging Fruit Keyword in the early stage of your website until you start obtaining authority in search engines
If you are a marketing professional, then you know that low-hanging fruit keywords are those keywords that are easy to rank for.
They can help you get more traffic to your website with less effort.
If you are looking to increase your traffic to your website and make more sales, then you should focus on low-hanging fruit keywords.
Criteria and How to find Low-Hanging Fruit Keywords
There are different Keyword Research Tools that you can use to find Low Hanging Fruit Keywords. You can simply use a Keyword Research Tool like Google AdWords Keyword Planner.
It will allow you to input a seed keyword and then see related keywords that have low search volume but high relevance.
This is a great way to find Low Hanging Fruit Keywords that you can target to get more traffic to your website or blog.
However, Google AdWords Keyword does not give you more details it gives you an estimation.
They are also more advanced Keyword Research Tools that give you more data and how much traffic you will get if your article ranks on the first page of Google.
When it comes to Keyword Research Tools to find Low Hanging Fruit keywords I use Jaaxy. It gives me a lot of keyword suggestions that are low competition.
It helps me find low-competition keywords easier. Jaaxy also shows you an estimated volume for a particular keyword and next to that is the traffic estimate for the lowest position.
They are 6 column features in Jaxxy Dashboard you need to know.
Avg: The average number of searches that a keyword receives per month
Traffic: Visits to your website if you achieve the first page rankings in the search engines
QSR: Quoted Search Result: The number of competing websites ranked in search engines for this exact keyword
KQI: Keyword Quality Indicator: Green is great, Yellow is ok and Yellow is poor.
SEO: A score-based traffic and competition the high the score the more likely you will rank with the keyword on the first page.
Domains: Available domains that are related to the keyword
Those features will give you more information about which keyword you need to go for your next article. They are also other usefully features you can find in Jaaxy that will be helping your website and your business.
The criteria for Low-Hanging Fruit Keyword is to find keywords within under 100 QRS (competition).
When you are doing your Keyword search in Jaaxy, there is a column called QSR that you will use to find out the exact competition in Google.
This is the total number of competing pages that you are up against in the entire world. Under 100 is awesome for getting rankings, even with a new website.
As you can see the competition is under 100, so this fits the ranking criteria for a brand-new website. You can see the average traffic this keyword gets.
Therefore, if you find 10 or more similarly Low Hanging Fruit Keywords and you write an article targeting those keywords you get average traffic of 2,630 per month.
If you consider what a click is worth in paid search environment or Paid Per Click environment you are looking at $1.0 up to $3.0 per click.
You are getting a dollar's worth a click as free traffic as a result of targeting the Low Hanging Fruit Keyword imagine how much you are saving in terms of money and especially if you start getting over 10,000 clicks per month and how many sales you are making per month.
Targeting Low Hanging Fruit Keywords is a strategy that is working and it is going to work forever.
The only job you have now as a blog or internet marketer is to invest most of your time researching Low Hanging Fruit Keywords and writing quality content for your target audience.
Whether you are in a relationship or other niches this strategy work very well for a brand-new website and Jaaxy is a good keyword research tool, especially for people getting started and wanting to build brand new niche website.
There are other Keyword Research Tools such as Ahrefs and SEMrush that you can use but those tools are more advanced.
 I only recommend them if you want to build an authoritative website to find competitive keywords.
You have to keep in mind authority websites need a lot of time and more resources in terms of money to see your website ranking in the search engine.
It also involves building links (backlinks) to your website for search engines to trust your brand new website.
Therefore, if you are just starting and you have a tight budget you are better off using Jaaxy and targeting Low Hanging Keyword for more traffic to your website
Final Verdict – Low-Hanging Fruit Keywords
Typically with a brand-new website, it is more difficult to get ranked under the more competitive keywords and you are much better off investing your time and energy in targeting low-competition keywords.
This strategy can be used forever when you start a brand-new website
You can stick to lower competition keywords in the early stage of your website being established, and as you obtain authority in search engines, you can consider targeting more competitive search terms.
Low Hanging Fruit Keyword is the best strategy you can use if you are building a brand new niche website for fast ranking and more traffic.
Therefore if you want to learn step-by-step how to rank brand-new niche website and monetize it.
You can check out the Wealthy Affiliate step-by-step training and better yet you can start your first lesson for free.
Did find this article useful?
Please share it with others
Thank you for your support and do not forget to share your experience in the comment below.