This is my complete review of a Keyword Research Tool, called Jaaxy.
In My Jaaxy Review, I will cover:
How Jaaxy works
Important features
Things to improve
How it compares to other Keyword Research Tools
So without further ado, let's get started.
What is a Keyword?
A keyword is simply a word or phrase that people search for in search engines like Google, Yahoo and Bing.
Every time you search on google you are entering a "keyword phrase" into the search box.
Here is an example I did on Google.
The "Dieting Tips" input is a keyword.
I searched for dieting tips on Google and it provides me with the most relevant results (see below)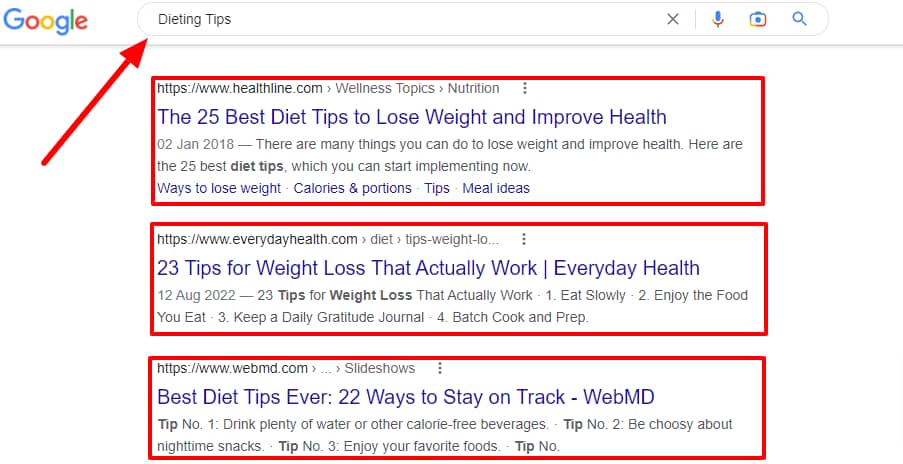 When I clicked on one of these results, I am taken to a website that has been "ranked" in Google.
Jaaxy keyword tool will help you find good keywords for your brand-new website as an affiliate marketer, blogger or content creator.
The question you might be asking right now is whether Jaaxy is a good Keyword Research Tool that you can rely on.
Let's find out in this Jaaxy Review.
Jaaxy Interface
At the first glance, the Jaaxy interface is pretty much clean and easy to use.
Once you have created your Free Jaxxy Account using your email this is how the interface looks like.

It is beginner friendly and easy to navigate compared to some other Keyword Research Tools I have reviewed before.
Now that you are familiar with the Jaaxy interface let me cover the basics and how Jaaxy works.
What Is Jaaxy and What Does It Do?
Jaaxy is an online Keyword Search Tool and research platform that was developed by affiliate marketers for affiliate marketers.
Jaaxy can make your life much easy as an affiliate marketer, blogger or content creator.
If you have a brand-new website and you want to find low-competitive keywords to rank your blogs in the search engines
The Jaaxy keyword tool was designed by Kyle Loudon & Carson Lim who own an affiliate marketing training platform called Wealthy Affiliate.
Their main objective was to design a keyword research tool that will help their students to find Low-Hanging Fruit Keywords; unique Long-Tail Keywords to help them to rank well and monetize their niche website.
Jaaxy metrics are based on traffic, QSR (Quoted Search Result), and quality of the search term (long tail nature, etc).
Jaaxy doesn't use any other metrics like other Keyword Search Tools.
It analyses the competition, the keyword itself, and traffic and helps users quickly decide on whether or not it is a good keyword for SEO purposes.
The Jaaxy QSR data is the most important feature that tells the number of competing websites ranked in google for the exact keyword.
When you plug in the keyword phrase in Jaaxy it will give the average number of searches that the keyword receives per month, traffic, QSR, KQI and SEO difficulties.
It also has Alphabet Soup feature to help you find Long Tail Keyword Ideas from A to Z will talk about it late in this Jaaxy Review
Now, I will get into the Jaaxy Features and Terminology in a minute.
But the basic gist is that Jaaxy will help you find a keyword that has less competition and a unique Long Tail Keyword that your competitor can hardly discover.
You can create a free account to follow along or you can start your research right away from this plugin below:
Jaaxy Keyword Search and Terminology
Once you sign up with Jaaxy you will automatically land on the Keyword Research Box where you will do all your keyword research.
Let's look at the Jaaxy Terminology that you need to know when you are doing your keyword research.
Keyword – It is a phrase that users type into search engines to find what they are looking for. This is where you will be analysing your keyword.
You can open a blank search and type any phrase that comes to your mind and get some keyword ideas.
The best part is Jaaxy gives you Long tail keywords of informational and buying intent.
As you can see below I just plug in the keyword phrase "dieting" and Jaaxy give me a lot of other keywords related to my target keywords.
The good part also is that Jaaxy has related features that give you related keywords.
You can just click on it for Jaaxy to analyse the keyword or come up with different keyword ideas for your niche website.
Avg – The average number of searches that the keyword receives per month.
When you are looking for a keyword a traffic number between 100 – 200 on average is a good keyword especially if your website is brand new.
But you also have to check other factors like competing websites and SEO scores to determine if it is a good keyword.
Traffic – Number of visitors to your website if you rank on the first page in the search engine.
Quoted Search Result (QSR) – The number of competing websites ranked in google for this exact keyword.
A keyword with less than 100 QSR ( Competition) is always the best. But if your website is brand new aim for less competition.
Once your website starts earning authority, you will then be able to target keywords with a QSR (Competition) above 100
Keyword Quality Indicator (KQI) – It shows you if the keyword is good or not. Green is good, Yellow is OK and Red is poor.
This is determined by the competing website that the exact keyword is ranked for and the quality of traffic.
Remember Jaaxy aims to show you keyword that has low competition anything under 100 QSR is a good keyword, especially for a niche website.
Therefore, if you want to build an authority website you can go for advanced Keyword Research Tools such as Ahrefs or Semrush
For a niche website or affiliate marketer, Jaaxy is the perfect tool that you can rely on. It gives you low-competition keywords and unique long-tail keywords with buy intent
SEO – Jaaxy's score is based on the traffic and competition, unlike other Keyword Research Tools that are looking for Inbound Links, Domain and Page Authority.
Jaaxy keyword tool helps the user to determine if the keyword is good or not based on competition and the quality of the traffic.
The higher the score the more likely you will rank for the keyword.
Some people might say that is not good enough to determine if the keyword is good or not.
Inside Jaaxy the is also another feature called Search Analysis that helps you to analyse the 10 websites that are ranking on Google for the Exact Keyword.
The feature will help you to analyse your competitors and come up with better content to outrank them.
Jaaxy's SEO score is a scale from 1 to 100 where 1 is the hardest and 100 is the easiest keyword to rank for.
But this is the opposite of other Keyword Research such as KWFinder and Long Tail Pro. On those Keyword research tools, 1 is the easiest and 100 is the hardest keyword.
Some reviewers tried to dramatize that the Jaaxy SEO score scaled in the wrong way.
It is a matter of understanding. Some product owners want to make their products a little bit unique compared to other tools.
Domains – This feature will help you to find a domain name related to that keyword.
It used to be very useful back then when Google used to give fairly advantage to a domain mane with Exact Keyword Phrase.
For example, "paleodiet.com" would be an Exact Match Domain (EMD) for the keyword phrase " Paleo Diet".
It used to be a popular way to get higher search engine rankings because they were an easy way to get a keyword in the domain name.
However, Google has changed their algorithm to devalue EMDs, so they are no longer as effective as they once were.
For me, this feature won't help you much since the Google algorithm has changed drastically in the past years.
Jaaxy's other Features and How it works
Besides the Keyword Search Tool Jaaxy has more features that I need to dive into most important feature to decide if this is what you are looking for.
Alphabet Soup
This is a great feature if you do not have a keyword idea or you are looking for Long-Tail Keywords with buying intent.
You can plug in anything that comes to your mind Jaaxy will help with a lot to come up with keyword ideas from A to Z.
As you can see I type "Dieting" and Jaaxy find a lot of keyword ideas with the letter A and most of them are Long Tail Keywords.
I can move from A to B and until Z to get keyword ideas. I found comparative Keyword as such:
Atkins Diet vs South Beach Diet
Raspberry Ketone Diet Drops vs HCG Diet Drops
Atkins Diet vs Zone Diet
If read the Content Marketing Tips by Brian Dean you will understand that product comparisons are the best way to increase traffic to your niche website.
Therefore if you are an affiliate of those products you will make more sales.
People who are searching for products X vs Y already have a credit card in their hand they are just looking for the better product to buy.
Search Analytics
This is another feature that I love in the Jaaxy It will help to see the top 10 websites that are ranking on the first page on Google for your target keyword.
This feature will help you to spy on your competitors and come up with a strategy to outrank their posts or articles.
I was searching for Jaaxy Review to analyse the competition.
It shows the words count that my competitors use in the post, links on the post, backlinks, Alexa Rank and if they are using Google Adsense.
Better yet it also shows you the Meta Description to come up with the best one and outrank your competitors.
Every time you find keywords for your niche website you will need to use the search analytics to see which websites are ranking at the 10 top of the Google SERP.
It will give you an idea of what kind of posts or articles you need to write that will compete with your competitors.
For me to outrank those competitors first I have to look at the words court and write the Jaaxy Review with more than 3325 words.
It also shows how many backlinks this website has.
For a new website, it will struggle to outrank those competitors with the keyword Jaaxy Review.
Let's see what I can get by analysing the keyword "Jaaxy Review".
The rule of thumb is to pick a keyword under 100 QRS for a brand-new website and SEO difficulties over 90.
As you can see a brand-new website will struggle a bit to rank for this keyword. I did some research on KWfinder it gives the same results.
This is Kwfinder Keyword SEO Difficulty as you can see in the screenshot below:
For the Jaaxy Review keyword, it indicated that the keyword is not easy but it is still easy.
This is the same result that I got on the Jaaxy keyword tool and this is proof that Jaaxy is accurate
Affiliate Program
This feature helps you to find a product relating to your target keyword. Inside Jaaxy there are 4 Affiliate Networks.
Clickbank,
Digital River,
Commission Junction
And Linkshare.
The feature will show you:
The Affiliate Program Name – The name of the affiliate program.
Product Website – The website associated with the affiliate program
Commission – The commission details
Alexa Ranks – The traffic ranking on alexa.com for the website
Network – The affiliate network that the product or service is part of.
Although you can do this manually by Googling the product name + affiliate program.
Jaaxy gives you more details on how the website is ranked on Alexa. The high the number the more popular the products or services.
It is a great feature to help you find more affiliate programs that you can promote to increase your affiliate commissions.
Brainstorm
Brainstorm is another Jaaxy feature that shows topics that are trending on Google Trends, Yahoo Buzz, Alexa Topics, Amazon Best Sellers and Twitter Trends.
Jaaxy Site Rank
Site Rank is a great feature that will help you to check your position in Google, Yahoo and Bing.
You can simply enter the keyword and domain name to track your website rank from Google, Yahoo and Bing.
You can set it up to track how your website ranks daily, weekly, monthly or all the time.
It is a good feature to see how your post or article is performing on search engines and can also track your competitors too.
This feature will also help you to plan by tracking different targeting keywords and how they are performing on SERP before you write your posts or articles
Jaaxy Support
So at this point, I have explained all of the key features of the Jaaxy Keyword Tool and it was time to see how their support stacked up.
Unfortunately, Jaaxy does not have any support that you can contact or chat too. But they have full training where you will learn how to use Jaaxy and different features.
The training is straight forwards and it will help to understand how the Jaaxy Keyword Tool works and get family with all the terminology.
If the lack of support is your drawback you can try out KWfinder where you can chat with the support 24/7.
However, I don't think this is a big deal since Jaaxy has covered all the necessary training for you to kick-start your keyword research.
Jaaxy Pricing
Jaaxy Starter – Free Trial
This is an introduction to Jaaxy it includes 30 Keywords Research with some features ranging from the Keyword Search, QSR, Domain Search, Site Rank, Keyword Lists, and the Alphabet Soup Platform.
You can create your Free Starter Account Here to check out how Jaaxy works or you can do your keyword research right away here.
Jaaxy Lite – Free for Premium Wealthy Affiliate members
It includes all the features and unlimited keyword searches. This is what I am using since I am a Premium Wealthy Affiliate Member.
Jaaxy Pro – $49 per month or $499 per year
This is a powerful version of Jaaxy and the most popular.
It includes all the features and unlimited keyword searches, much more robust access to SiteRank.
Therefore, if you are a member of Wealthy Affiliate it will cost you only $19 per month instead of $49 per month.
Jaaxy Enterprise – $99 per month and $999 per year
This is for the elite affiliate marketer and internet marketers' dream keyword research platform.
It's a great tool if you are an intermediate or an advanced online marketer, affiliate marketer, merchant, and Amazon seller
It takes the automation of SEO to a whole new level with SiteRank Tracking which allows you to automatically track your rankings in Google, Bing and Yahoo through the arc of time.
You can also get this package for $49 per month if you are a premium wealthy affiliate and it is free for premium plus members.
Jaaxy vs KWfinder
Jaaxy has a lot of similarities with Kwfinder in both tools you can find long tail keywords with buying intent.
However, Jaaxy will help you to find unique keywords that you can never find in other keyword research tools.
The difference between Jaaxy and KWfinder is how the SEO score is calculated. Jaaxy's SEO score is backwards compared to KWfinder and other keyword search tools.
Where 100 is the easiest and 1 is the hardest keyword.
KWFinder SEO score is based on inbound links, domain authority, and page authority.
But Jaaxy's score is based on the quality of traffic and competition.
Both keyword research tools are useful for niche websites and Affiliate Marketing SEO.
I am a premium wealthy affiliate Jaaxy is included in my membership and if I want to upgrade to Jaaxy Pro is only going to cost me $19.
Therefore Jaaxy can be a bit more experience compared to KWfinder if you are not a premium wealthy affiliate.
Things I Liked About Jaaxy
Unique Data + Features: I am consistently impressed with the unique features and data that I came across on the Jaaxy keyword tool.
The people behind it are expert Affiliate Marketers.
They did a solid job of including features (like Side Rank and Search Analysis) that help to track your ranking and spy on your competitors to do good jobs.
Long Tail Keyword: Jaaxy was designed for Affiliate Marketers it gives you a unique long tail keyword with buy intent that will increase your commission.
Those long-tail keywords are very unique and your competitor will probably never discover them until you publish your posts.
Things That Jaaxy Should Improve
Need Update: Jaaxy needs a bit of an update. They are some of the Long Tail Keyword you can find that does not make sense.
I doubt people are searching for this kind of keyword on Google, Yahoo and Bing.
The training also needs some updates. The interface of Jaaxy has changed drastically since 2014.
Limitation: Jaaxy is a bit limited since all the keyword research you can do are only in English.
However, this is also the same limitation for almost all keyword research tools that I have reviewed.
Another limitation is you can not do location research. All the keyword research results in Jaaxy are based on searches from the entire world
Jaaxy Review: Is This Tool Worth It?
Overall, Jaaxy is worth it especially if you have a brand new website or you want to build a niche website.
The tool is been designed to help bloggers and affiliate marketers to find low-competition keywords to help them rank fast their niche websites on search engines.
Jaaxy Search Tool is not for everyone especially if you want to build an authoritative website.
It won't help you find competitive keywords as you can find on Ahreft and Sunrush.
But if you are looking for a tool to help you find low-competition keywords and unique long-tail keywords, you really can go wrong with Jaaxy Keyword Tool.
What Do You Think?
There you have it: my Jaaxy Keyword Research tool review.
Now I would like to see what you have to say.
Did you like it? Do not like it? Let me know in the comments section below.