Welcome to Ysense Review. This is my complete review of ysense.com the site that claim to earning with paid online surveys, cash offers, and quick tasks.
In fact,
I have been a member of Ysense since 2018.

Now you know that I have used Ysense before and I am going to tell you everything you need to know in this unbiased review.
In this Ysense Review, I will cover
What Is Ysense all about

If Ysense a scam or legit

How people make money with Ysense

If Ysense is worth it or not

The Alternative to Ysense.
So let dive right in this review…
Ysense Review
LEGITIMACY

PROFITABILITY

EASE

TRANNING
Summary
YSense is a global online community with multiple earning options that has been around since 2017. You can join as member and start earning with paid online surveys, cash offers and more.
Company name: ySense
Website: https://www.ysense.com
Owner: Prodege, LLC
Product/Service: Market Research
Cost: Free
Is Customer Perspectives legit: Yes
The Wealthy Academy Rating: 3.0/5.0
Do I recommend this? Yes only for extra cash
Therefore, if you to make more money online and quit the 9 to 5 I will recommend to check out My Top Recommendation Platform to learn step-by-step how to build a niche website and earn passive income with affiliate marketing.
What Is Ysense All About?
Ysense is an online platform that reward it is members from all over the world by completing online survey and other micro-tasks online.
Ysense.com used to be called Clixsense.com it was created in 2007 by James Grago and their business model was Paid To Click (PTC) site.
Like most Paid To Click site has a bad reputation on the internet and James Grago decided to change their business model in 2017 to Get Paid To (GPT) site.
In August 2019 Ysense rebrand their name from Clixsense and now is been operating by a company called Prodege, LLC. the internet and media company.
They also operates other sites like:
ShopAtHome

InboxPounds and
How to signup with Ysense?
To signup with ysense it completely free. You can visit www.ysense.com and complete this form shown on the screenshot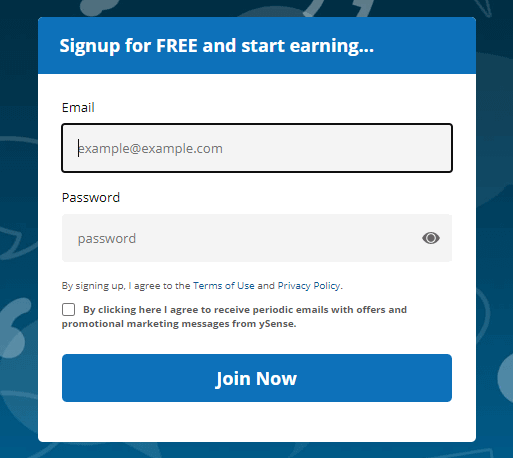 You will need to provide a valid email address cause you will receive an email with an link to activate your account.
Once you activate your Ysense account then you are ready to start earning with Ysense.
Therefore, there are some age restrictions before you sign up with Ysense you can read it below:
"ySense members must be at least 13 years old in the United States or at least 16 years old in any other country. If you are under these age restrictions, you may not register or participate on ySense, and if we discover you have an account it will be deactivated. Note: Age restrictions may vary by country".
Therefore, you can sign up with Timebucks or Surveytime they accept almost everyone.
How Does Ysense Work?
Ysense is available worldwide. As a registered member, you will earn with Ysense in different ways:
1. Complete Survey
Earn cash for taking free surveys is Ysense main reward program since 2007.
You will earn average of $0.14 to $1.79 per surveys depending length of the survey and the company.
If you are from UK and USA you might earn a little bit more per survey.
But you won't be eligible to complete for all the surveys it all depend with the market research
Therefore you will to provide your:
Gender

Age

Household responsible

Profession
This will help Ysense to understand you and your buying behaviour to match you with survey that meet your profile.
Even though after completing those questions It will be a hustler to find surveys that you qualify for.
2. Cash Offer:
You will also earn cash by completing some offer cash inside Ysense member area which will be:
Testing new products and services,

Downloading App

Sign up with Website

Watching Video

And More
As you can see those are other survey sites that you can sign up and earn $0.12 up to $0.36.
Those cash offers are sponsor by companies like:
Persona.

ly

,

Peanut Labs and

AdGate.
But those tasks do not pay much as you can see above it all depends on the task you are completing and the company that offer those tasks.
You will need to spend more time on YSense to make a dollar.
3. Appen Task
This is the third party website that you will find inside Ysense member area and you will need to sign up with Appen before you start completing some tasks.
Those tasks can be:
Categorizing images

or making Google searches
Once you finish the tasks you can get pay instantly unlike cash offers. You will earn few cents to a dollar depending on the level of the task.
Therefore, If you are a student who wants to make a few bucks by completing small tasks online you will enjoy Appen offers.
But this can be a waste of time if you are looking for a way to make a lot of money online.
If you are serious about making money online you can check out My Top Recommendation and learn how you can turn your passion into profit.
4. Referral (Affiliate)
Referring people to sign up with Ysense.com is the best way to make money online in this platform.
But you will need to have a lot of active referral to make decent money.
You can invite as much as you want Ysense does not have a limit of the number of people you can invite.
But, you do not need to create fake accounts or invite a dog and cat.
Your referral must be active member otherwise you earn nothing.
This is how you can earn your referral commissions with Ysense:
Signup Commissions
For each active member, you will earn a sign-up commission of $0.10 or $0.30 depending on the country you are living in.

Once your referrals earn their first $5.00 excluding commissions and bonuses. You will earn an extra $2.00 bonus!
Activity Commissions
You earn a 20% commission of every task your referral complete. You can also increase your commission up to 30%.
Below is what I have found on ysense website.
"Increase your commission level up to 30%: If you have a minimum of 100 or more active referrals with at least one transaction in the past 30 days you get an additional 5% affiliate commission making your affiliate commission 25%. If you have 200 or more active referrals you get an additional 10% affiliate commission, making your affiliate commissions a whopping 30%"
But it is not easy to get even 100 active referrals on Ysense. It takes a lot of time to even earn a dollar per day.
However, you can also refer people to Amazon or Clickbank products and start earning commissions.
Clickbank pays up to 85% in commission.
You earn even more than the owner of the product and some product cost $450.
You can sign up with Wealthy Affiliate and learn step by step how to build niche site to earn affiliate commissions.
5. Daily Checklist Bonus.
You will earn 16% bonus for being an active member and complete some task you find in your member area.
To qualify for the Daily Checklist Bonus you will need to complete one of this task:
Complete at least 10 Appen Tasks

Complete at least 2 offers or surveys from the offers and surveys pages

Complete at least 5 Appen Tasks and at least 1 offer or survey from the offers and surveys pages
Once you complete one of those tasks you will earn 16% of daily earning. This will be added to your account at the end of the day.
How Much Does Ysense pay?
Your earning potential on Ysense depends on how active you are and how many active referrals you have.
This is the final word of ysense.com
"It is difficult to determine how much money you can make with ySense. There are too many variables in determining this. For example how often you log in, how many referrals you have, how many offers, tasks or surveys you and your referrals complete and more".
Once you reach your payment threshold of $10 you can request your payment via Papay.
You need also to put in mind that the Ysense payment threshold differs on the payment method.
Amazon Gift Card $5.00
Payoneer $52.00
Paypal $10.00
Reward Link Italy $10.00
Skrill $5.05
Ysense Tips And Tricks To Maximize Your Earning
By completing the online survey you are participating in market research and your answer needs to be accurate otherwise they won't be useful to researcher.
To increase your earning and qualify for all the surveys you need to:
Complete surveys once they are available.

Complete your profile to match it with Surveys that fit your needs

Be Consistency in your answer

If you do not qualify for surveys do not change your details to meet the rules. You will reduce your chance to qualify for other surveys.

Be an active member and learn the in and out of Ysense.

Invite many people to sign up with Ysense as you can.
If you follow these tips and tricks you will be among the top Ysense earner who earns between $5 to $10 per day.
Is Ysense Worth It?
It all depends on what you are looking for. If you will be happy doing small tasks online and earning a few bucks them you will enjoy it at Ysense.
But if you want to earn a consistent income online with your laptop and live the laptop lifestyle even quitting your 9 to 5 Job.
Ysense can be a waste of time and even a dream killer. You won't earn enough with this site and you will struggle to even qualify for some surveys.
Therefore, if you enjoy complete online surveys and other micro-tasks online you can check out those sites in the table to increase your earnings
Ysense Complaints
There is no surprise or a double. I was expecting to find a lot of complaints about ysense.
I will not bore you will all the detail let examine a few of ysense complaints
Payment Method
Ysense only has 4 payments method which is:
Payoneer

Skrill

PayPal

Gift Card
Those 4 payment methods are not available in many countries. Other members prefer to get their money to Bitcoin.
If you ask my opinion I prefer getting via Paypal and use it as my main online payment method. We are human you can not meet everyone expactations
Longer Ass Survey
Surveys are the main rewarding program in Ysense. But it takes you 10 to 30 minutes to complete a single survey and you will earn $0.17 up to $1.97.
Plus you will waste a lot of time to find surveys that match your profile and qualify for and many people are saying completing surveys is waste of time.
Account Suspension
It is always a frustration after spending a lot of time in Ysense and the next day you find your account is been suspended.
I found a lot of complaints about this issue. I have nothing to say about this.
But most of the time people are trying to trick their system and earn a bit more.
Therefore, you will need to play by the rules.
Otherwise your account will suspended and lose your money.
If you want to increase your earning you have to follow the Ysense tips and tricks I have mention earlier in this Ysense Review.
Is Ysense a Scam or legt?
Ysense is among the most popular Get Paid To (GPT) site in the world and It is very a legit platfrom to earn some extra cash.
As a member, you will be rewarded in various ways from online surveys to downlaod app and you can also be rewarded by being an active member.
Can I recommend someone to sign up with Ysense?
All depend on what you are looking for.
If you are looking to earn a few bucks online.
Yes, you can sign up to complete small tasks and earning cash that you can get through PayPal. 
Besides being the lower-earning platform Ysense has paid many people around the world with Gift cards and cash.
That make the entire site very legit and side hustle to earn extra cash.
How Do I Make Money Online?
I am making money online through blogging and Affiliate Marketing without spending money on ads.
This does not have anything to do with surveys or other apps that pay close to nothing.
All I do is to pick up niche with is the Making Money Online (MMO), start a niche site and then write content that people are looking for on the internet.
I am monetizing my site with Google Ads and Affiliate Marketing this is by far better way to earn money money online then completing surveys
Therefore, if you are reading this Ysense Review it means this method works.
I have built a stream of income online by following a simple method that Wealthy Affiliate is teaching.
Funny enough Google is also paying me every time someone clicks on the ads you find on this post.
This means I make money while I am sleeping because anyone can access my website any time and anywhere in the world.
Final Verdict – Ysense Review
Ysense is the oldest Get Paid To (GPT) site with a good reputation. Once you are a member you will be rewarded in various ways.
But do not expect to be rich by completing surveys and other tasks you find in your member area.
I hope I have answered all your questions including this question "is Ysense a scam or legit?" 
Therefore,if do not like the earning potential and you want something different that can give you financial freedom.
Check out Wealthy Affiliate to learn how to turn your passion into affiliate commission
Now I would like to turn things over to you: Did I miss anything that I did not cover in this review?
Do you think Ysense is a good site hustle for you?
Or maybe you have other tricks that I did not cover here that help you to make more money.
Either way, let me know and leave a comment below.